Please enable JavaScript for the best experience. Follow the instructions here: here
Hi. I'm Nomorobo. Let's get to know each other better.
Constantly updated protection
You're always protected from over 1.4 million of the most annoying robocallers. Over 1,500 new robocallers are identified every day.
Identify or Block
Choose whether robocalls are identified on the incoming call screen or sent directly to voicemail.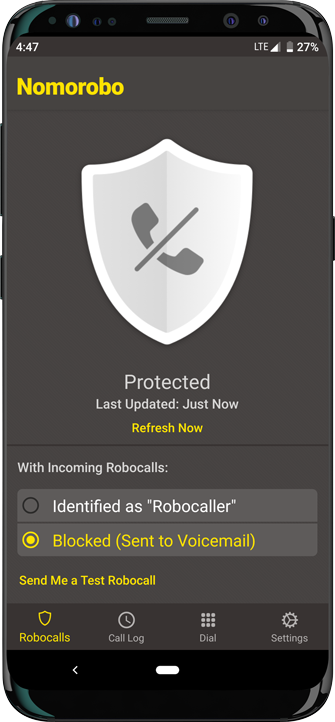 Important robocalls allowed
Legal robocalls like, school closings, weather alerts, appointment reminders, and pharmacies, aren't blocked.
Just set it and forget it
Stop manually blocking callers. Stop worrying if an unknown number is a scammer. We do it all for you, automatically.
The Do Not Call list doesn't cut it anymore.
Luckily, there's Nomorobo.
Reviews
So much for Nomorobo!
"I couldn't be happier with Nomorobo. Removing robocalls has changed my life! "
Bob D.
"I love Nomorobo and have told a lot of people about it. It has stopped many, many, many annoying calls. Thank you so much."
P.S.
"I love it. We get so many fake phone calls, and while working from home, it interferes with my work day. Now, it's back to peace and quiet!"
Loura Z.
"Utterly, positively, definitely the most amazing wonderful, awesome, terrific thing EVER! Thank you!!!"
Judie B.D.
"There is nothing better than watching a call come in that you know is a robocall and have it stopped dead. I love your service."
Gary F.